Amazon is a retail destination for sellers of all kinds. Many newbies become overwhelming as they start to sell on Amazon. Generally, the number of third-party sellers has increased by 52% yearly. However, learning how to sell on Amazon needs to know only a few simple steps.
In this post, a guide is shared with you to help you start your Amazon Empire the right way to become successful.
Why Should Sellers Choose Amazon.com?
Selling on Amazon has become very popular in recent years as it allows people to set their own hours and is easy to start. Besides, Amazon.com is the biggest marketplace of Amazon. Obviously, it is catchy for every seller; it doesn't matter where s/he lives.
Apart from 350 million product listings, amazon has 142 million Prime members, which are practical factors for the online arbitrage sourcing list. Moreover, about 54% of sellers run their business in Amazon U.S. in less than three months. All of the reasons mentioned above are what motivate sellers to choose Amazon.com for selling their products.
Can I Sell from Other Countries on Amazon.com?
Using Amazon as your marketplace makes it possible to expand your business quickly in all other
countries worldwide. As a significant eCommerce opportunity, Amazon allows you to introduce your brands and products with the AGS program rapidly.
Amazon Global Selling (AGS) is a program that enables sellers to list and sell their items on Amazon marketplaces worldwide.
Generally, Amazon.com, which runs in the United States, accepts sellers from many countries around the world. If you are a resident of one of the mentioned countries in the table, you are eligible to sell on Amazon US.
| | | | |
| --- | --- | --- | --- |
| Afghanistan | Ecuador | Libya | Saint Lucia |
| Albania | Egypt | Liechtenstein | Saint Vincent and the Grenadines |
| Algeria | El Salvador | Lithuania | Samoa |
| Angola | Equatorial Guinea | Luxembourg | Sao Tome and Principe |
| Antigua and Barbuda | Eritrea | Macedonia | Saudi Arabia |
| Argentina | Estonia | Madagascar | Senegal |
| Armenia | Eswatini | Malawi | Serbia |
| Australia | Ethiopia | Malaysia | Seychelles |
| Austria | Fiji | Maldives | Sierra Leone |
| Azerbaijan | Finland | Mali | Singapore |
| Bahamas | France | Malta | Slovakia |
| Bahrain | Gabon | Marshall Islands | Slovenia |
| Bangladesh | Gambia | Mauritania | Solomon Islands |
| Barbados | Georgia | Mauritius | Somalia |
| Belarus | Germany | Mexico | South Africa |
| Belgium | Ghana | Micronesia | South Sudan |
| Belize | Greece | Moldova | Spain |
| Benin | Grenada | Mongolia | Sri Lanka |
| Bhutan | Guatemala | Montenegro | Sudan |
| Bolivia | Guinea | Morocco | Suriname |
| Bosnia and Herzegovina | Guinea-Bissau | Mozambique | Sweden |
| Botswana | Guyana | Myanmar | Switzerland |
| Brazil | Haiti | Namibia | Taiwan |
| Brunei Darussalam | Honduras | Nauru | Tajikistan |
| Bulgaria | Hong Kong | Nepal | Tanzania |
| Burkina Faso | Hungary | Netherlands | Thailand |
| Burundi | Iceland | New Zealand | Timor-Leste |
| Cambodia | India | Nicaragua | Togo |
| Cameroon | Indonesia | Niger | Tonga |
| Canada | Iraq | Nigeria | Trinidad and Tobago |
| Cape Verde | Ireland | Norway | Tunisia |
| Central African Republic | Israel | Oman | Turkey |
| Chad | Italy | Pakistan | Turkmenistan |
| Chile | Jamaica | Palau | Tuvalu |
| China | Japan | Panama | Uganda |
| Colombia | Jordan | Papua New Guinea | Ukraine |
| Comoros | Kazakhstan | Paraguay | United Arab Emirates |
| Costa Rica | Kenya | Peru | United Kingdom |
| Cote d'Ivoire | Kiribati | Philippines | United States |
| Croatia | Korea (South) | Poland | Uruguay |
| Cyprus | Kuwait | Portugal | Uzbekistan |
| Czech Republic | Kyrgyzstan | Qatar | Vanuatu |
| Democratic Republic of the Congo | Laos | Republic of the Congo | Venezuela |
| Denmark | Latvia | Romania | Vietnam |
| Djibouti | Lebanon | Russia | Yemen |
| Dominica | Lesotho | Rwanda | Zambia |
| Dominican Republic | Liberia | Saint Kitts and Nevis | Zimbabwe |
It is also worth noting that sellers can use the North America Unified Account (NAUA) in "Seller Central," with which they can easily switch between Amazon.com, Amazon.ca, and Amazon.com.mx to list their products and manage orders in all marketplaces.
For example, if a seller wants to sell on Amazon U.S from Canada, they can do so conveniently with the NAUA.
There's no need to pay 3 times for NAUA. Sellers should pay a single monthly subscription fee for the professional seller account of North America Unified Account, and then they'll access all tools and services for the 3 countries.
How Does OABeans Help Sellers to Sell on Amazon U.S.?
OABeans is one of the trustworthy companies in the market that is an expert in providing profitable Online Arbitrage deals. They have 3 different services.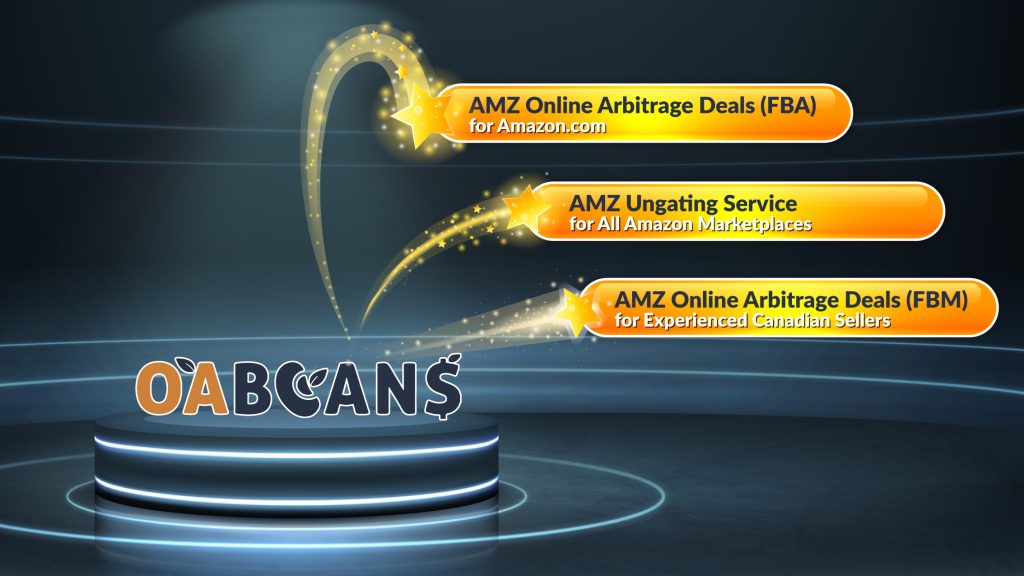 Online Arbitrage Sourcing Lists to Sell from the US on Amazon.com
One of the most popular services of OABeans is providing online arbitrage deals, which helps sellers source fast-selling products from the USA and sell them on Amazon.com for a profit.
Using these OA leads is the best option for sellers who want to expand their Amazon FBA business on Amazon US; because:
– The leads are found manually with strict criteria
– All the deals have a premium quality
– All the products are checked for the IP claims
– The price history of all products is checked
– The service has a money-back guarantee
Online Arbitrage Sourcing Lists to Sell on Amazon.ca
Online Arbitrage Sourcing Lists to Sell on Amazon.ca
The other service is a new Amazon business model that helps sellers source products from Canada and sell them on Amazon.ca. Using these OA leads is the best option for sellers who want to expand their Amazon FBA business on Amazon.ca; because:
– The leads are found manually with strict criteria
– All the deals have a premium quality
– All the products are checked for the IP claims
– The price history of all products is checked
– The service has a money-back guarantee
Read more details by clicking on this link.
Amazon Ungating Service for All Amazon Marketplaces
And the last but not the least service is Amazon ungating service. Since sellers need Amazon approval for selling most of the low-competition products, getting ungated in these categories and brands is crucial.
So, OABeans helps sellers to get ungated on every brand, category, or ASIN to boost their sales on Amazon. A feature that distinguishes OABeans from other service providers is that they're totally legal.
All the ungating process is transparent, and sellers shouldn't be worried about account suspension.
How to Setup an Amazon US Account?
As we said previously, sellers should consider that if they make a unified account sellercentral.amazon.com in one of the North American countries, Canada, the USA, and Mexico, they can sell in any of the other countries. It means after signing up in your unified account of any of these marketplaces; they will have access to all three countries in one group.
To setup an Amazon US account, you have to follow the following steps:
1) Register to sell globally on amazon.
2) To make a payment, you need to enter the required details
3) Link the regional amazon seller accounts
4) Pay a monthly fee and additional referral fee
5) Choose the language requirements based on various countries
Which fulfillment method is better? FBA or FBM?
Based on your business model, you have to choose a fulfillment method to ship your international
orders: FBA (Fulfilment by Amazon) or FBM (Fulfillment by Merchant).
Each of these methods has its own specification. In Amazon FBA, Amazon is responsible for storing, picking, packing, and shipping the ordered items. You don't even need to deal with shipping and packing the products, and they will send to Amazon's warehouses directly from your provider. Amazon also does
return and refund processing and customer service.
On the other hand, is the FBM Amazon method, in which sellers fulfill the orders themselves. Store, pick, pack, and ship the items are parts of the FBM process.
Most Amazon sellers prefer the FBA method, as it is straightforward and doesn't involve usual challenges. You, as an amazon seller, can put effort into improving your business. Mostly, FBA is more cost-effective than what you perform by yourself.
When you use amazon FBA, you will be qualified for Buy Box (Featured Offer) and using Prime shipping.
Besides, there is no restriction for using Amazon FBA because of the primary location of your business.
Final Thought
The global market is the best place to grow your online business. OABeans helps you to have a successful journey with profitable online arbitrage sourcing lists. FBA and FBM are two methods that amazon sellers can use to fulfill their products. FBM program is used for customers without Prime membership. Using both ways simultaneously, based on the conditions, it is also possible to take advantage of each.
Source: oabeans.com